---

ATTENTION!
All informations about the May Tango Festival 2023
will appear soon.
---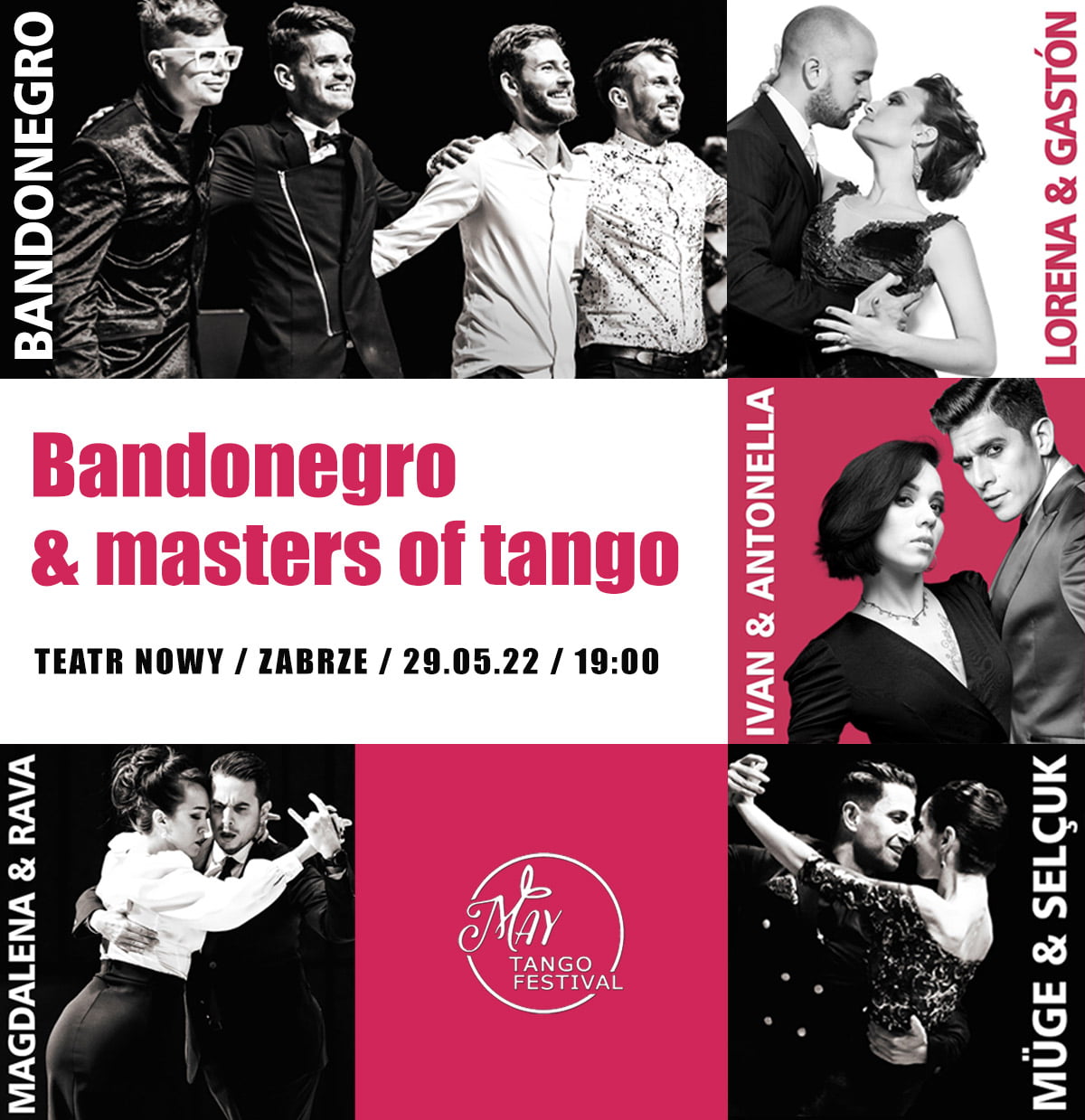 Live music and tango performances on the stage of the Teatr Nowy in Zabrze.
"Bandonegro and
masters of tango

"!

Nowadays, when you can only dream of travelling, and a visit to Buenos Aires seems as unreal as a flight into space, we invited a part of Buenos to Zabrze.
The spectacle performed by brilliant young Polish musicians and honored by the performances of world-famous dancers from Argentina, Uruguay and Turkey!

Is the tango really a lovers' quarrel? Or maybe a longing for love, which is filled by nostalgia and delicacy?
Many myths have arisen around the tango. One thing is for sure - it will be touching and beautiful.
We cordially invite you to a spectacle with live music and tango performances!
BANDONEGRO!
Michał Główka– bandoneon / accordion
Jakub Czechowicz- violin
Marek Dolecki- piano
Marcin Antkowiak- double bass
Antonella Terrazas & Ivan Terrazas (
Argentina

)
Lorena González Cattáneo & Gastón Camejo

(Uruguay)
Müge Üner & Selçuk Atalay (Turkey)
Magdalena Myszka & Rava Azeredo da Silveira (Poland, Switzerland)

Price: 80 PLN  /  20 €
You can buy your ticket by e-mail and by phone. Please contact us and make reservations:
- mtf@majowa.eu
- 535 299 316
Please make the payment by bank transfer *:
51 1140 2004 0000 3202 7847 9945
Stowarzyszenie Nasze Miasto Tańczy
Please provide the following information in the transfer title:
"Bandonegro and Masters of Tango", name and number of tickets.
* Tickets purchased at the Theatre's office can be paid for in cash ONLY.
BOOK YOUR TICKET NOW during the registration the festival.