---
Airlines
---
We recommend you a low-cost airlines: WizzAir and Ryanair. This airlines are very well known and is very easy to find low-cost flights throughout Europe.
Find your perfect WizzAir or Ryanair connection.
If you have a problem, please, try these websites: Skyscanner, eSky.
The Katowice-Pyrzowice Airportis the perfect choice, because is very close to Zabrze but please remain open to travelling through Krakow, Wroclaw or even Warsaw.
It takes only an hour to get from Krakow to Zabrze, hour and a half from Wroclaw to Zabrze and something about 4 hours from Warsaw to Zabrze by car.
From all of these airports is possibly to get to Zabrze by different means of transport.
Find more information about transport connection below the map.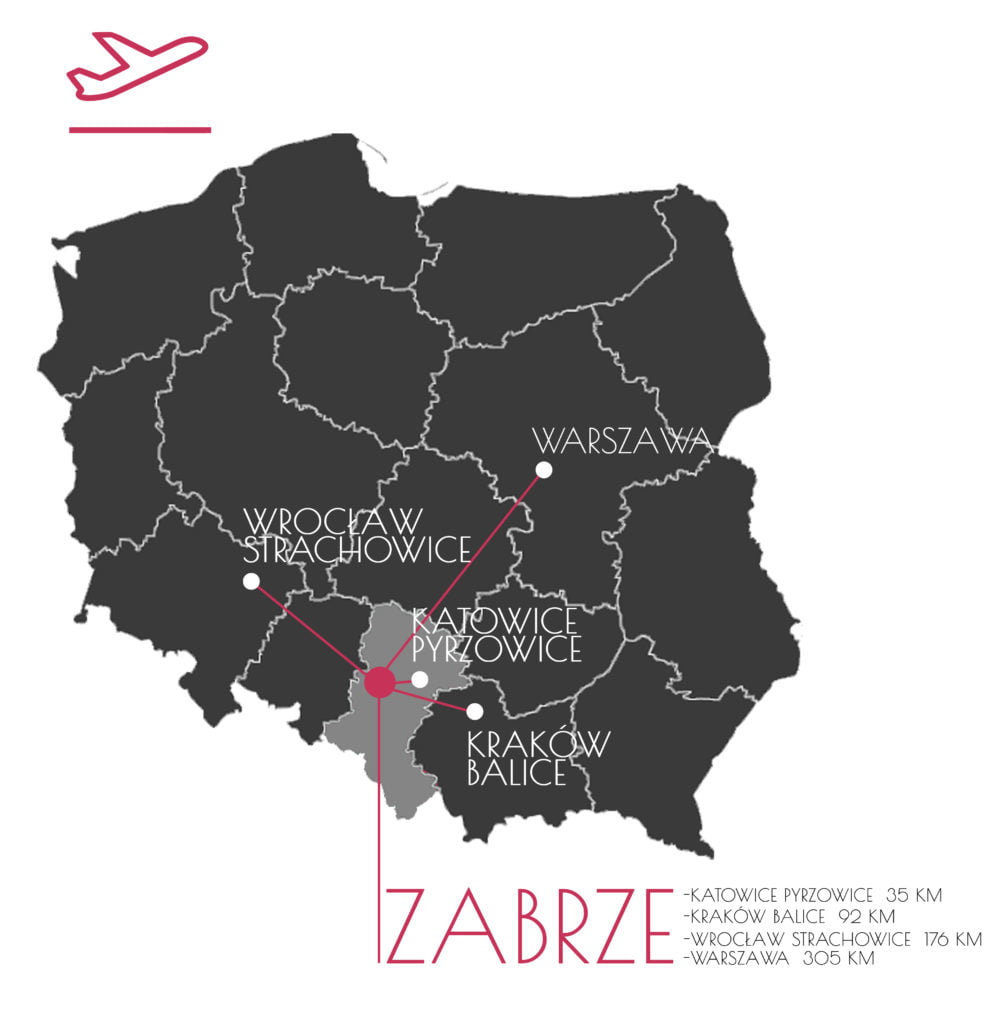 Katowice- Zabrze

Bus:
Price: ~ 3 €
Time: ~ 1 h 15 min
From Katowice-Pyrzowice Airport
to Zabrze Multikino
M16 / M 116 Line
Kraków Balice - Zabrze

Buses:
Time: ~ 1h 30 min
Price: ~ 5 €

Transporter: Unibus / BusInter / LeoExpress
Wrocław Strachowice - Zabrze

Bus + train:
Time: ~ 3h
Price: ~ 12 €

1: Wrocław Lotnisko-Wrocław Dworzec
Transporter: 106 Line
Price: ~ 2 €
Time: ~ 44 min
Find a perfect transport connection.
2: Wrocław Główny- Zabrze
Transporter: PKP
Price: ~ 10 €
Time: ~ 2h
---
Bus lines
---
If you prefer to get your way overland, we reccomende FlixBus.
FlixBus (former Polski Bus) is a cost-friendly bus travel company. The bus travel around Europe. They offer very good prices.
By Flix Bus you can get to Zabrze from whole country and from Germany, Ukraine, Czech Republic, Hungary and Slovakia.
Find a perfect transport connection.
The FlixBus station is located in Katowice. City is located very close to Zabrze- 35 km.
You can continue your travel by bus, train or car and it takes something about 30-50 minutes. It's depend on a mean of transport.