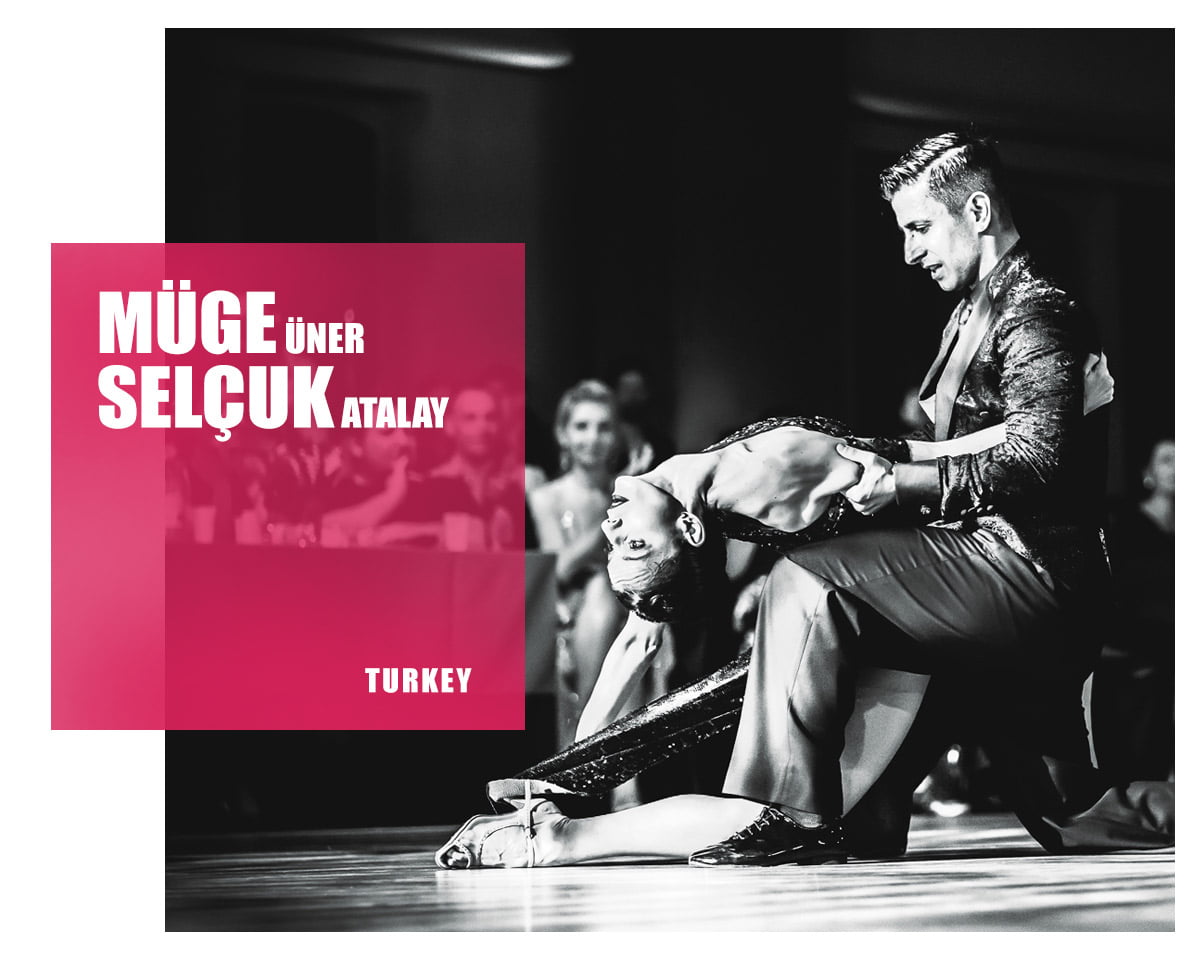 Müge Üner & Selçuk Atalay
(Turkey)
Selçuk is graduated from Contemporary Dance School and Müge has regularly training classical dance technics and ballet exercises.
Müge and Selçuk met first time 4 years ago like partners for championship. They  participate in many festivals, workshops and competitions together now. And till now have worked with many famous tango artists.
Also they are instructors many dance school in Istanbul; Academia del Tango Istanbul, Rüya Sahne, Türkan Bulut Dans Akademi. And they teach tango at three universities in Istanbul.
TANGO CHAMPIONSHIP:
IDO Couple Dance Competition 2018 Tango Escenario and Waltz - First Place
IDO Couple Dance Competition 2019 Tango Escenario – First Place
Mundial Baile European Tango Championship 2017- Finalist
Mundial Baile Championship Istanbul 2018 - Second Place
Turkey Champıİonship
- 2015-2016 - First Place
- 2016-2017 - First Place
- 2017-2018 - First Place
___
Photo by Tango Photography / m.frames
---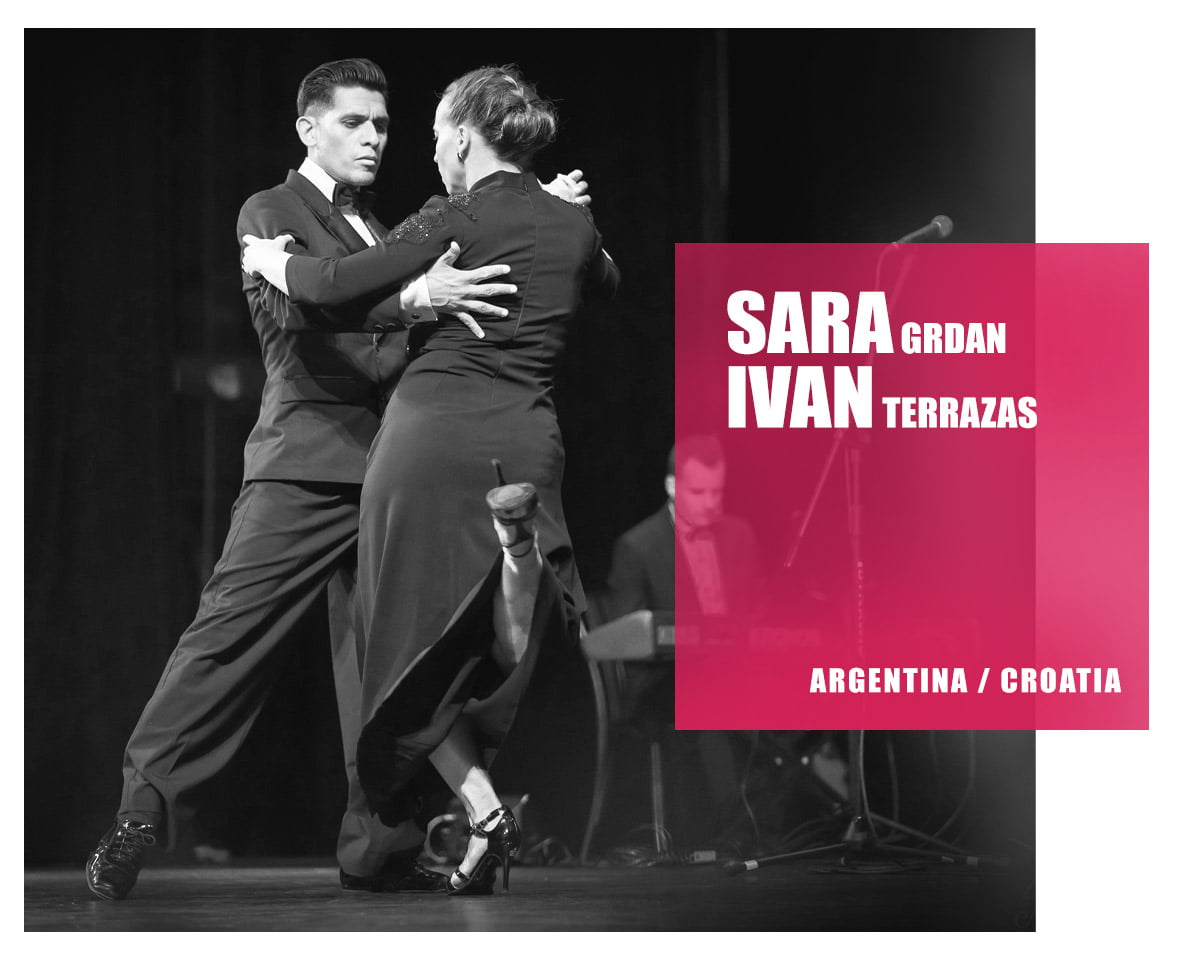 Ivan Terrazas & Sara Grdan
(Argentina / Croatia)
IVAN is from Mendoza, Argentina, where he started his artistic career as a soloist at 12 years of age. He was trained by his parents Eduardo Terrazas and Beatriz Herrera in competition Malambo and other forms of Argentine Folklore, as well as classical ballet and Argentine Tango. Upon his arrival in the United States, Ivan added salsa and tap to his repertoire.
Kinetic since an early age, SARA studied regional folklore dance and classical ballet technique in Zagreb, Croatia. Her obsession with Argentine Tango started in the late 1990s at the milonga, and she subsequently learned Argentine folklore. In order to better understand body mechanics and to teach movement technique.
IVAN and SARA met in New York City and have dedicated themselves with passion and intensity to Argentine Tango. Trained primarily by Diego DiFalco, Pablo Pugliese and Natalia Hills, and also drawing from many other influences, such as Jorge Torres, Roberto Herrera, Guillermina Quiroga, Gabriel Misse, Carlitos Perez and Raul Bravo, together they are among the youngest and most recognized teachers and performers in the world of Argentine Tango.
As instructors, they have developed a modern systemic approach to teaching traditional tango. Their goal as teachers is to instill strong fundamentals by emphasizing technique, analytical thinking, logic, naturalness and comfort in both the close and open embrace. Ivan and Sara encourage students to look for connection, quality of movement, creative expression and musicality to make their dance uniquely their own.
After living for 7 years in United States and Argentina, Ivan and Sara are currently based in Europe, and in addition to being members of the prestigious company 'Tangueros del Sur' directed by Natalia Hills, they have recently performed with 'Tangox2' and 'Miguel Zotto in Concert' directed by Miguel Angel Zotto, 'Obsesion Tango' directed by Tamara Bisceglia, and 'Compania Roberto Herrera' directed by Roberto Herrera.
In addition to their theatre credentials, Ivan and Sara are festival and workshop favorites, and have participated, among others, at the Belgrade Tango Encuentro, Sultans Tango Festival in Istanbul, Perugia Tango Festival, and Puerto Rico International Tango Festival.
___
Photo by Tango Photography / m.frames
---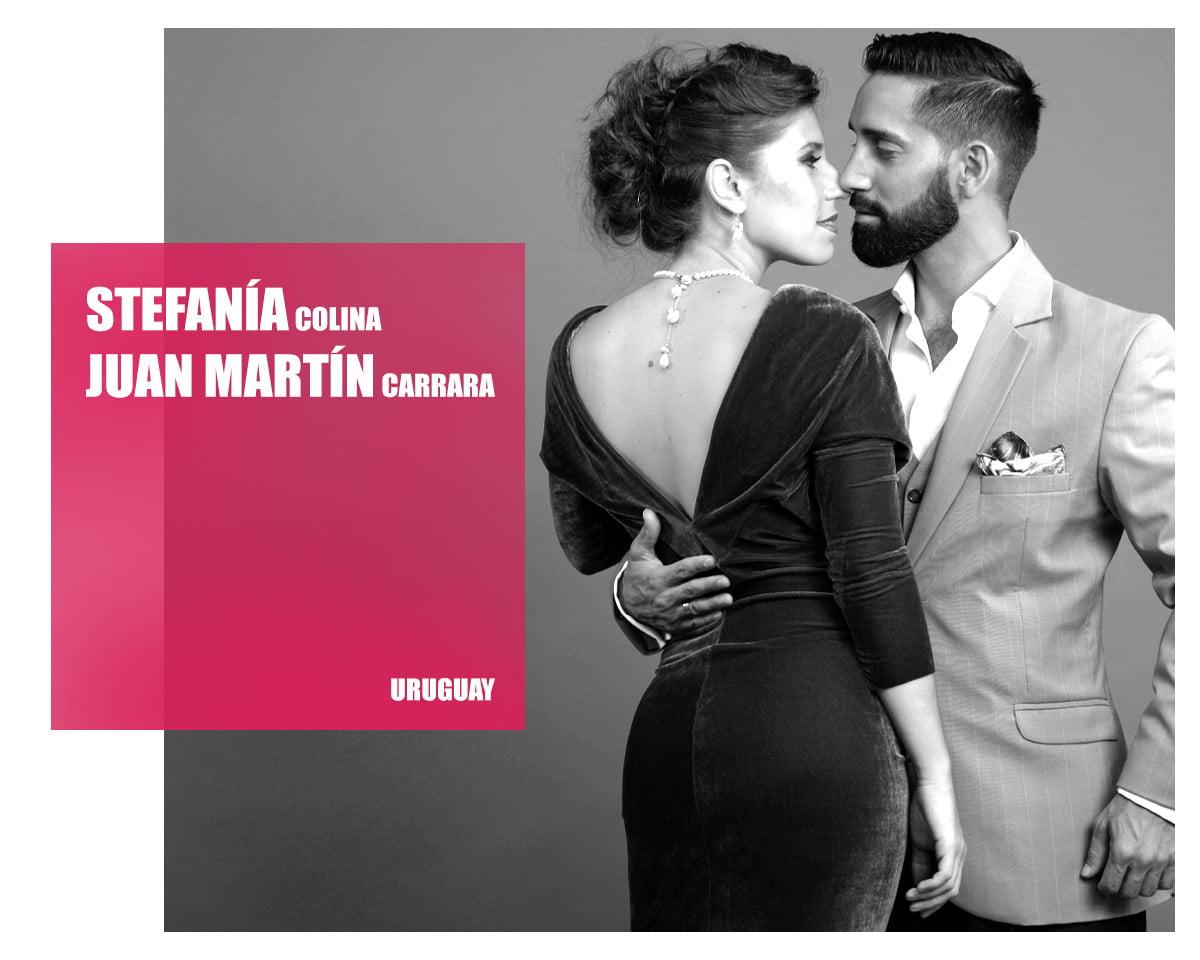 Stefanía Colina & Juan Martín Carrara
(Uruguay)
Young, extremely talented and diligent, they dance with an immense respect for the tradition and the music, and yet keep working on new forms of expression and their own development in the salon and on the stage. Being extremely popular teachers in Buenos Aires, Montevideo and the entire world, their classes allow one to hear and feel what is most intangible in tango. Their exquisite musicality, charm and sensibility have won them many hearts all over the globe.
Stefanía Colina started her career as a ballet and contemporary dancer in the "Orlama" School at the age of 4. She graduated at 17, after 13 years of intense training, and became one of the school's teachers.
During that time she had the opportunity to experience many dance styles that were taught as a complement to ballet, and that is how she encountered tango and Juan Martín, and from that day on a passionate, life-changing story for both of them began.
Juan Martín Carrara  started his dancing career when he was 13, as a ballet and contemporary dancer and a musical comedy actor.
At the age of 16, he entered the National Academy of Dance in Uruguay and was selected for the "Young Ballet" ensemble, touring all the theatres of the region as a performer of modern and classical ballet.
After a few years he met tango and at the same time Stefanía Colina, and fell in love with both.
Together they left all they had in Uruguay and moved almost immediately to Buenos Aires, with nothing more than their intense desire to dance and teach tango.
After a few years of working hard at improving their level and knowledge, they won the Intercontinental Championship in 2009 and the Uruguayan Tango Salón Championship in 2012.
Since then, they have been teaching and dancing around the world. They perform regularly in the milongas of Buenos Aires with prestigious orchestras such as "Color Tango," "Los Reyes del Tango," "Orquesta Sans Souci," "Orquesta Mariano Mores."
Their fame and uniqueness comes from their elegance, sensuality and musicality. They are also known for their successful and engaging teaching method.
In the last years they have been in some of the most important festivals and events in Europe, America and Asia.
___
Photo from Stefania & Juan's sorces
---